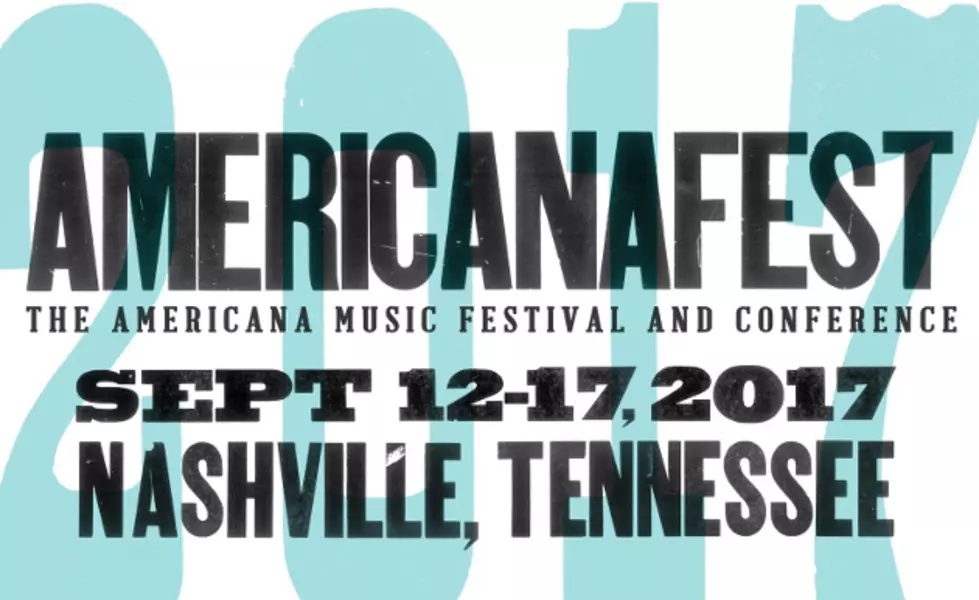 AmericanaFest Releases Final Round of Performers for 2017
Americana Fest
This morning the Americana Music Association announced the final round of its nearly 300 artists slated to perform at the 18th Annual AMERICANAFEST: The Americana Music Festival & Conference. The festival runs from September 12th-17th in Nashville, TN.
Final Round of Artists Confirmed to Play AMERICANAFEST℠:
A.J. Croce
Amelia White and The Blue Souvenirs
Amy Black
Belle Plaine
Big Star's Third Live
Billy Strings
Blackfoot Gypsies
Blair Crimmins and The Hookers
Bonnie Bishop
Brigitte DeMeyer
Caitlyn Smith
Cale Tyson
Carson McHone
Carter Sampson
Cat Clyde
Cereus Bright
Charlie Mars
Christian Lopez
Colin Hay
Colter Wall
Danni Nicholls
Danny Burns
Darling West
Dave Alvin
David Mayfield Parade
David Myles
Don Gallardo
Early James & the Latest
Eddie Berman
Escondido
Falls
Faustina Masigat
Front Country
Gill Landry
Grant-Lee Phillips
Harrow Fair
High Plains Jamboree
India Ramey
Jack Ingram
Jamie Kent
Jamtown
Jason Wilber
Jesse Dayton
Jimmy Lumpkin and the Revival
Joana Serrat
Joey Kneiser
Jon Langford
Joseph Huber
K Phillips
Kaia Kater
Kamara Thomas
Korby Lenker
Kristina Murray
Lee Ann Womack & Friends
Leyla McCalla
Liz Cooper & The Stampede
Lucie Silvas
Mark Erelli
Mary Bragg
Max Gomez
Me And My Brother
Motel Radio
Muddy Ruckus
Natalie Hemby
Old Sea Brigade
Otis Gibbs
Parsonsfield
Rachel Baiman
Ray Wylie Hubbard
Rayna Gellert with Kieran Kane
Reckless Kelly
Reuben Bidez
Robby Hecht
Robyn Hitchcock
Ryan Tanner
Sam Outlaw
Sarah Shook & the Disarmers
Shane Nicholson
Shelby Lynne & Allison Moorer
Shelly Fairchild
Skyway Man
Taasha Coates
Tattletale Saints
Ted Russell Kamp
The Americans
The Lowest Pair
The Mulligan Brothers
The Steel Woods
The Stray Birds
Tony Joe White
Trout Steak Revival
Vikesh Kapoor
Webb Wilder
Wild Ponies
Will Hoge
Will Kimbrough
Zach Schmidt
Zephaniah O'Hora
View this year's complete lineup here.
More From Radio Texas Live