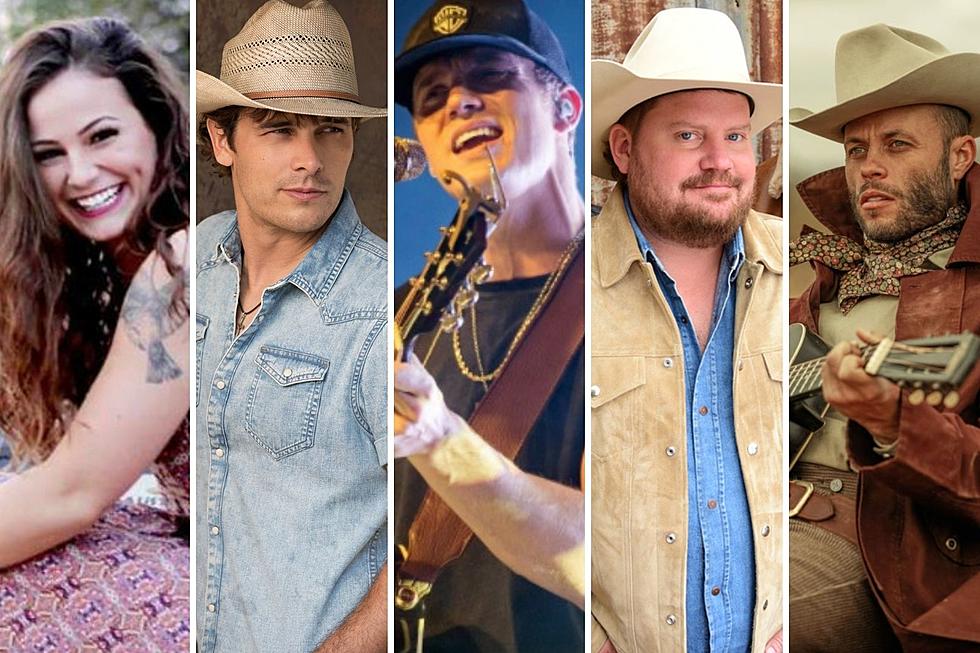 Our 21 Favorite Texas and Red Dirt Singles of '21… So Far
Courtesy of Kat Hasty, Randall King, Parker McCollum, Randy Rogers Band, Charley Crockett
It's June 17th. We are now over halfway through June. Which means we are over halfway through the halfway month of 2021. So no better day, than today, to share our picks for our Favorite Texas and Red Dirt Singles of '21... so Far.
So, did a song that was released in 2021 make our list? Sure. Is more than one not technically a single? You bet. Is there a song that doesn't actually come out 'till July? Absolutely.

But after careful deliberation we settled on our criteria for our list, and we decided it shall be comprised of songs or singles that have been played, at least once, on Radio Texas, LIVE! since December of '20. And while we tried to focus more on actual radio singles, there is an exception or two to that.
Furthermore, chart position had little (absolutely nothing) to do with our list -- and a couple of the songs that made our list actually never even made it into our regular rotation. Why? Well, we just don't have the room to break every awesome new song and artist, as much as we love to do it. After all we have a mere five hours to fill each week. Five hours to play songs by artists that people more easily recognize, to keep them tuning in. All the while playing artists that are underplayed on radio already. Oh, and yes, not every song on our list might be considered Texas or Red Dirt, it's more of a spectrum.
Let's be honest Cody Johnson and Koe Wetzel a couple of Texas Music's biggest acts, are so overlooked by country radio it's a crime. Concessions must be made.
So here they are, Our 21 Favorite Texas and Red Dirt Singles of '21… So Far:
The Wilder Blue "Dixie Darlin'"
Read Southall Band "Where We Belong"
Cody Johnson "Whoever's in New England"
Austin Meade featuring Koe Wetzel "Happier Alone"
Kolby Cooper "2 Words"
Kat Hasty "Pretty Things"
Josh Abbott Band "Settle Me Down"
Kaitlin Butts "How Lucky Am I"
Randy Rogers and Wade Bowen "Hold My Beer"
Randall King "Around Forever"
Parker McCollum "Drinkin'"
Morgan Wade "Wilder Days"
American Aquarium "I Try To Think About Elvis"
Jonathan Terrell "Highway"
Koe Wetzel "Drunk Driving"
Kylie Frey "Horses in Heaven"
Kyle Park "Rewind"
William Beckmann "Bourbon Whiskey"
Randy Rogers Band and La Maquinaria Norteña "Chupacabra"
Slade Coulter "Hey Mary"
Mike Ryan "Can Down"
Charley Crockett "I Can Help"
Looking for a nonstop stream of the best music in the universe? Download the Radio Texas, LIVE! app for ANDROID, or IOS. You can use it to continuously stream all of your favorite Texas and Red Dirt 24/7.
LOOK: The most famous actress born the same year as you
Many of the actresses in this story not only made a name for themselves through their collection of iconic performances, but also through the selfless, philanthropic nature with which many of them approached their stardom. In an age of flipping the script on societal norms, many of these actresses are using their voices and platforms to be advocates for those who are otherwise unheard.
More From Radio Texas Live