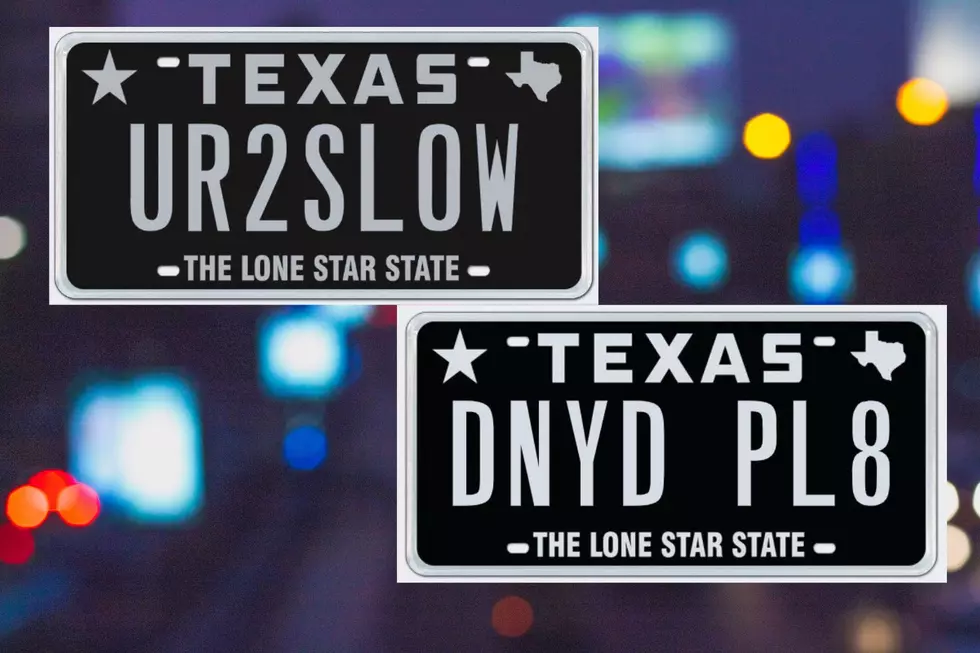 Over 5000 Personalized License Plate Requests Denied By Texas DMV In 2022
Texas Department Of Motor Vehicles/My Plates

When you see a jumbled-up set of letters and numbers on a Texas personalized license plate, it's always fun to try to decipher the meaning. Some are pretty straightforward and easy to figure out while others are challenging while being extremely creative at the same time.
Texas issues thousands of personalized plates each year while denying thousands of vanity plates at the same time. The Texas Department of Motor Vehicles denied more than 5000 personalized license plate requests from January 2022 to October 2022.
Why Would So Many License Plate Requests Be Denied?
Many personalized requests were denied because they were too vulgar. Others were derogatory, featured an illegal act, disparaged law enforcement along with other reasons. Once you see some of the combinations that Texas drivers tried to be obtained, you'll understand why.
What Are The Proper Guidelines When It Comes To Creating Your Own Personalized License Plates?
Since 1965 Texans have been able to obtain personalized license plates from Texas DMV if they follow the established standards, including:
it does not conflict with a current or proposed pattern issued by Texas
is not indecent
is not vulgar
is not derogatory
does not refer to race, ethnicity, gender or sexual orientation, whether the
reference is derogatory or not
does not contain illegal activity message
does not make a drug reference - substances, state of mind, glorification
does not make reference to gangs
How Can You Obtain Personalized License Plates?
It's a pretty easy process. Simply jump on over to MyPlates, pick out a license plate style that you like, test the combination of letters to see if it is available and then pay the additional fees to obtain your personalized license plates.  Now let's check out 26 of the more than 5000 personalized license plate requests that were made in 2022 and ultimately denied by the state!
Over 5000 Personalized License Plate Requests Denied By Texas DMV In 2022
Out of 5000 personalized Texas license plate requests in 2022, these 26 were denied by the Texas Department of Motor Vehicles.
Texas DMV Denies These Personalized License Plates
Vanity (or personalized) license plates on vehicles can be fun and whimsical. Some owners get very creative when it comes to the right combination of letters and numbers to get their message across in those precious seven characters or less. However, the State of Texas didn't approve the requests to have these personalized plates printed.
Stay Away From Tyler's 15 Most Accident Prone Intersections and Streets
While vehicle accidents can occur wherever we drive, there are certain areas in Tyler that seem to have a higher number of traffic accidents than others. The following is a gallery of 15 Tyler intersections that had the most accidents in 2021 according to Tyler Police Department data.
These 10 Longview Intersections Had The Most Accidents In 2021
Longview drivers are not invincible when it comes to traffic accidents, these Longview intersections saw the most accidents in 2021 according to a report from the Longview Police Department.
More From Radio Texas Live