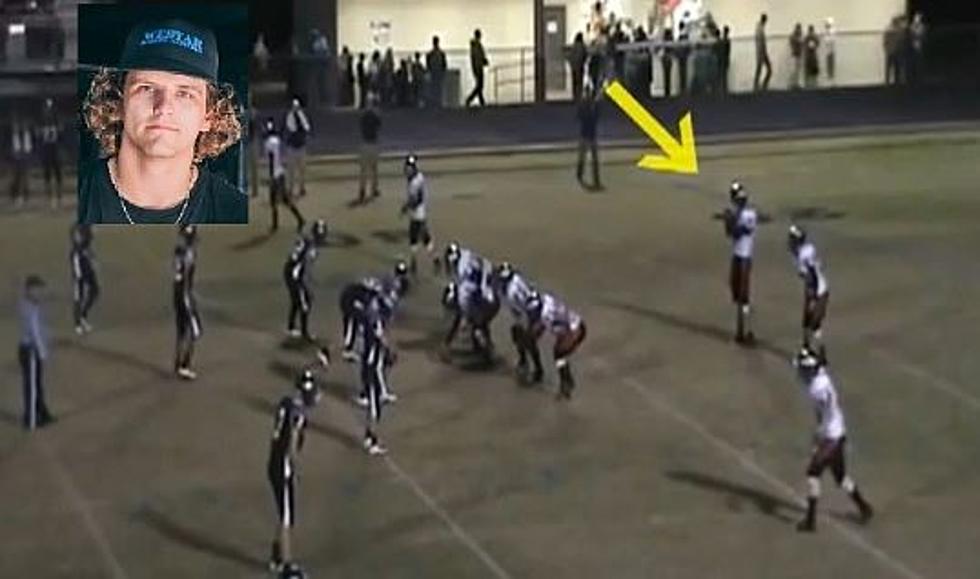 Watch These Rare High School Football Highlights of Pecos & The Rooftops Front Man
YouTube via Michael Townes
Backed by a certified viral smash, Pecos & The Rooftops are establishing themselves as one of the Texas scene's hottest acts. Now with high school football set to kick off, are you ready some football... highlights... from Pecos Hurley?

The Rooftops lead singer is a big guy, his junior year of high school, the 6'5 Paris, TX native looked like a man smashing heads on a field full of little boys. And look at what we found on YouTube.
Rockin' number 9, Hurley played quarterback, tight end, and outside line backer for Chisum High School, and judging by this highlight reel he enjoyed running over opposing teams both his junior and senior years.
The former Marine even has a recruiting page on ESPN, according to it he ran a 5.30 in the 40 yard dash, had a vertical of 25.2, and his SPARQ rating was 53.16.
You can watch Hurley's highlights for yourself:
Regarding their newest release,"'Last Thing I Remember," Hurley had this to say to Country Chord. "[It's] a song about someone who regrets being the person they are, but he isn't able to change to be the person that his significant other needs,"
Be sure to download the Radio Texas, LIVE! app on ANDROID or IOS to stream the best music in the world for the rest of your life. And if you've yet to give my new podcast a listen, Buddy Logan's Aircheck, you're missing out. It's available to stream or download anywhere that fine podcasts can be found.
The 18 Most Head Scratching, Unfiltered Koe Wetzel Tweets of '21... So Far
What's Koe Wetzel's secret? From tweets to lyrics it's honesty. Uncontrived, unadulterated, this-is-who-I-am, take it or leave it, feral honesty.
LOOK: Here are the best small towns to live in across America
More From Radio Texas Live