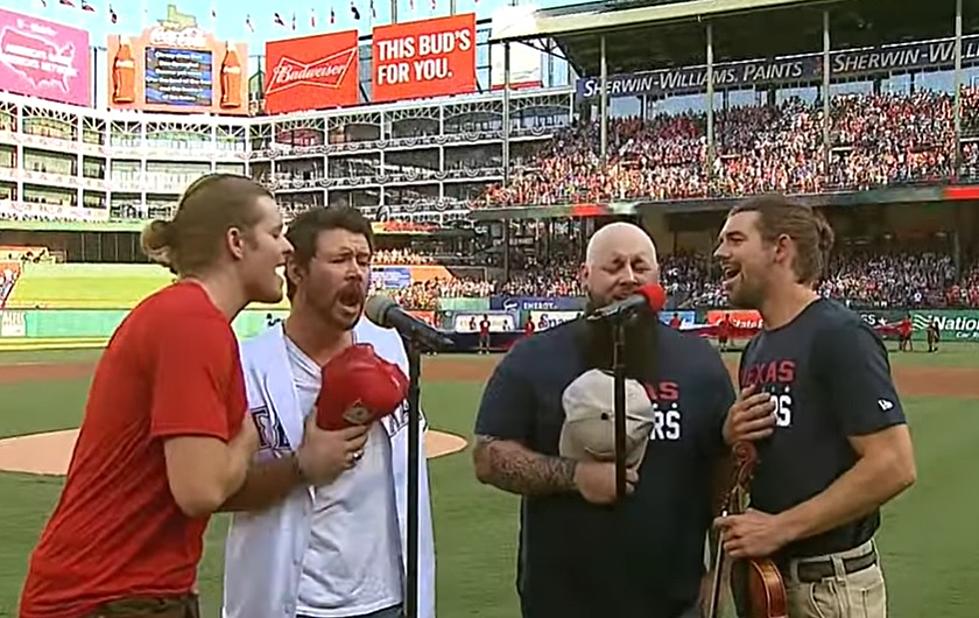 Shane Smith & The Saints Sing National Anthem in Beautiful 4-Part Harmony
YouTube
Shane Smith & the Saints is one of the most dynamic, most must-see live bands in our scene. And they're talent will be on full display at our 9th Annual Red Dirt BBQ & Music Festival in May.

With all the talk of Chris Stapleton's dazzling performance on The National Anthem before the Super Bowl this past Sunday, it got us talking here at Radio Texas, LIVE! about the time that Shane and the boys absolutely nailed their rendition before a Texas Rangers game.
As they tend to do, they took all our butts straight to the church of America in four-part harmony.
In May, we host our 9th Red Dirt BBQ on The Brick Streets and we're looking forward to performances from Charley Crockett, Shane Smith & The Saints, William Clark Green, Charlie Robison, Mike & The Moonpies, and Kaitlin Butts. Plus w're bringing over 25 of the top BBQ Joints in Texas to the party.
This year's show will be on Saturday May, 6th. We've sold out every year in existence and we anticipate selling out again, so don't wait. Get your tickets before they're all gone.
Now, press play and get you some red, white, and blue goose bumps. Be sure to give my new podcast a listen; Buddy Logan's Aircheck is available to stream or download on Spotify, Google, Tunein, anywhere fine podcasts can be found.
Radio Texas, LIVE! is heard on great radio stations in Colorado, South Dakota, Louisiana, Oklahoma, and Texas: Grand Junction: 995 KEKB, Sioux Falls: KIKN 100.5, Abilene: KEAN 105.1, Austin: KOKEFM, Midland-Odessa: KNFM Lone Star 92, Killeen-Temple KUSJ US 105, San Angelo: KKCN 103.1, Texarkana: KKYR Kicker 102.5, Lawton: KLAW 101, Lubbock: KQBR 99.5, Victoria: KXAX 104.3, Livingston: KIXS 107.9, Lufkin/Nacogdoches: KYKS Kicks 105.1, Wichita Falls: KWFS Lonestar 102.3. Shreveport: KXKS 93.7, Amarillo: KATP 101.9 The Bull, and originating from Tyler/Longview: 101.5 KNUE.
Full Lineup Announced For '23 Red Dirt BBQ & Music Festival in Tyler
This year's festival will be on Saturday May, 6th.
Tickets are on sale now at
reddirtbbqfest.com.
We can't wait to see all of you back out on the brick streets of Tyler, TX, this May.
More From Radio Texas Live