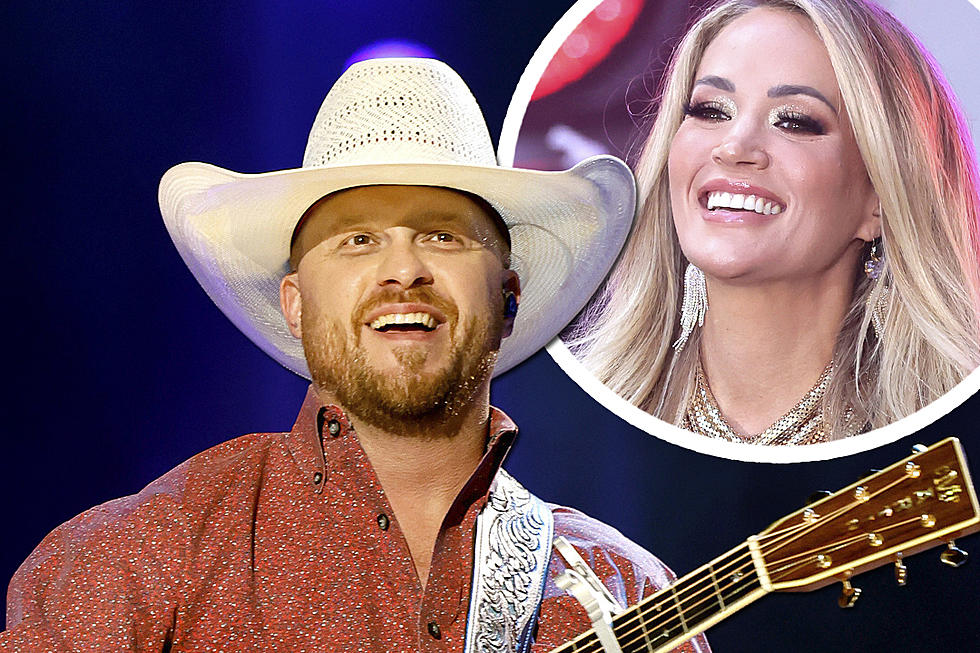 Cody Johnson's 'Leather' Tracklist Is Missing Something
Jason Kempin, Getty Images
Cody Johnson's next studio album Leather features two A-list collaborations, but not the one fans were expecting.
Jelly Roll and Brooks & Dunn join "The Painter" singer on separate songs on the 12-song release. The long-awaited, much talked-about duet with Carrie Underwood is nowhere to be found. We think we know why.
Leather is Johnson's third release with Warner Music Nashville
The album will drop on Nov. 3.
Last month, Johnson revealed the Leather Tour for 2024.
Johnson first leaked that he had cut a duet with Underwood in March. Backstage at the ACM Awards a month later, he told Taste of Country a bit more about it.
"It's done. We have no clue when it's gonna come out," he explained. "It's on a 24-track record. So, I'll probably break that record up somehow. Maybe a Vol. 1, Vol. 2 and we'll see where it fits in, but it's all about Carrie's timing and what our teams think is best."
Notice how he separates Vol. 1 and Vol. 2? That got lost over the next six months as excitement built for Leather. Johnson always spoke of these 24 songs as a cohesive project, but never said they'd all be released at once.
Talking to Billboard, Johnson reveals that the remaining 12 songs will be released on a deluxe version of Leather in 2024. That grouping of songs will feature additional collaborations, but he didn't confirm Underwood, even if he told ToC this in April:
"You will see it. I just don't know when."
Cody Johnson's Leather Tracklist:
A full list of the 12 songs on Leather is below. Jelly Roll appears on a clever song of redemption called "Whiskey Bent." Brooks & Dunn join him for "Long Live Country Music" which is exactly what you think it might be.
The title track, Johnson tells Billboard, is the heart of this project, but until Friday (Oct. 13) fans only knew "The Painter," a love song written by Kat Higgins, Benjy Davis and Ryan Larkins.
To coincide with the tracklist reveal, Johnson shared "That's Texas."
1. "Work Boots" (Jason Afable, Brett Beavers, Canaan Smith)
2. "Double Down" (Jeff Hyde, Adam James, Clint Daniels)
3. "Watching My Old Flame" (Kat Higgins, Wynn Varble, Daniels)
4. "That's Texas" (Andy Sheridan, Erik Dylan, Wyatt McCubbin)
5. "Dirt Cheap" (Josh Phillips)
6. "Jesus Loves You" (Mark Holman, Chase McGill, Michael Hardy)
7. "Whiskey Bent" (feat. Jelly Roll) (James, Mikey Reaves, Rocky Block)
8. "Leather" (Ian Munsick, Rivers Rutherford, Jeremy Spillman)
9. "People in the Back" (Devin Dawson, Austin Taylor Smith, Mark Trussell)
10. "Long Live Country Music" (feat. Brooks & Dunn) (Phil O'Donnell, Wade Kirby, Trent Willmon)
11. "The Painter" (Higgins, Benjy Davis, Ryan Larkins)
12. "Make Me a Mop" (Jessi Alexander, Connie Harrington, Alan Shamblin)
50 Great Modern Traditional Country Songs, with Artists
There's some great traditional country music out there, but you may need to hunt for it. We did the legwork with this list of 50 modern traditional country songs (from 50 different artists!).
Gallery Credit: Billy Dukes
More From Radio Texas Live