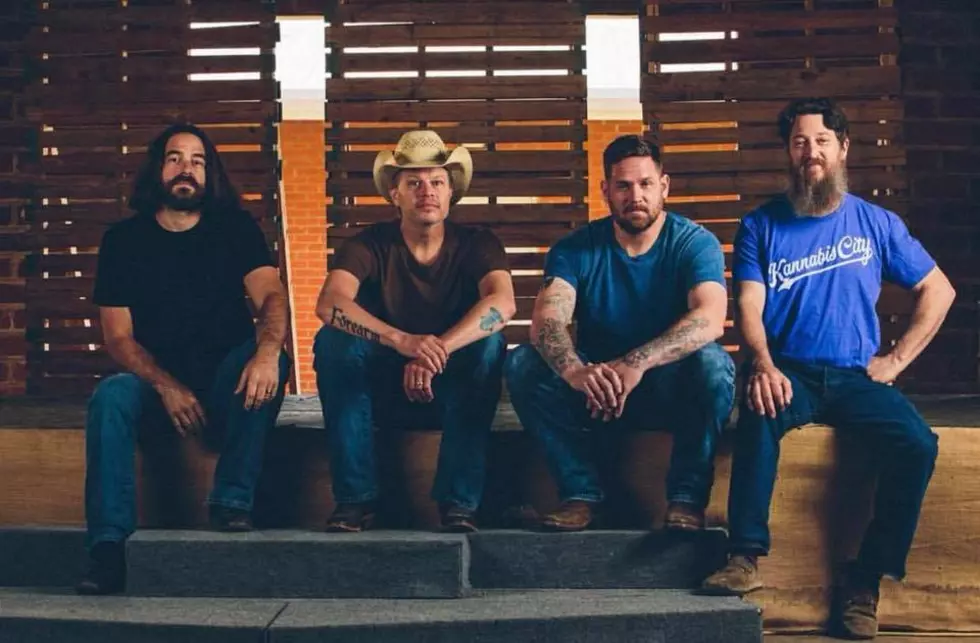 Jason Boland & The Stragglers Reveal Pearl Snaps 20th Anniversary Tour
Courtesy of Jason Boland & The Stragglers
Despite their massive regional popularity, and years of continuing success, Jason Boland & The Stragglers are one of the most underappreciated bands of all time.
The Stragglers are one of the best country bands ever assembled, but not enough people know this fact. As far as we're concerned the entire damn world oughta be singing along to "Somewhere Down in Texas." Hell, if all was right then "When I'm Stoned" would be over-played on country radio.
For two decades Boland hasn't changed his style, his delivery, not even the central theme for most of his music - but it's always good. Often it's great. Yet, his music is under-served to country music lovers. These poor, poor people. Look out now, the guys just announced their Pearl Snaps 20th Anniversary Tour. Jesse Daniel, Adam Hood, Caleb Caudle, Elaina Kay, Kody West, Kolby Cooper, and Casey Daniels Band will play select dates.
Jason Boland Pearl Snaps 20th Anniversary Tour Dates:
1/11 – Coupland, TX – Coupland Dancehall
1/15 – Houston, TX – White Oak Music Hall
1/16 – Austin, TX – Empire Control Room
1/17 – Dallas, TX – Gas Monkey Live
1/18 – Gruene, TX – Gruene Hall
1/25 – San Antonio, TX – SS&R BBQ CookOff
1/28 – Key West, FL – Mile 0 Fest
1/29 – Key West, FL – Mile 0 Fest
1/30 – Key West, FL – Mile 0 Fest
1/31 – Key West, FL – Mile 0 Fest
2/1 – Key West, FL – Mile 0 Fest
2/6 – Chicago, IL – Joe's on Weed St.
2/07 – Springfield, IL – Boondocks
2/08 – Indianapolis, IN – Hi-Fi
2/09 – V Club, Huntington, WV
2/11- Pittsburgh, PA – Thunderbird
2/12 – Virginia Beach, VA – Elevation 27
2/13 – NYC, NY – Hill Country Live
2/14 – Sellersville, PA – Sellersville Theater
2/15 – Richmond, VA – Richmond Music Hall
2/16 – Washington, DC – City Winery
2/18 – Atlanta, GA – Terminal West
2/20 – Birmingham, AL – Saturn
2/21 – Nashville, TN – 3rd & Lindsley
2/22 – Little Rock, AK – Revolution Music Room
2/28 – Angleton, TX – The Dirty South
2/29 – Houston, TX – NRG Stadium
3/6 – Albuquerque, NM – The Dirty Bourbon
3/8 – Ramona, CA – Ramona Mainstage
3/9 – Los Angeles, CA – Teragram Ballroom
3/12 – Rifle, CO – Ute Theater
3/13 – Denver, CO -Grizzly Rose
3/14 – Keystone, CO – Warren Station
3/15 – Salt Lake City, UT – The Olympic
3/17 – Boise, ID – The State Room
3/18 – Seattle, WA – Tractor Tavern
3/19 – Portland, OR – Polaris Hall
3/20 – Chico, CA – Tackle Box
3/21 – Sacramento, CA – Goldfield Trading Post
3/27 – Justin, TX – Mule Barn
4/4 – Durant, OK – Gilley's Choctaw Casino
4/10 – Lubbock, TX – Cactus Theater
4/11 – Luckenbach, TX – Luckenbach Dancehall – Indoor Stage
4/17 – Tulsa, OK – Cain's Ballroom
4/18 – Katy, TX – Mo's Place
4/24 – Helotes, TX – Floore's Country Store – Indoor Stage
4/25 – Galveston, TX -Galveston County Fair and Rodeo
4/30 – College Station, TX – Southerns
5/1 – Goliad, TX – Schroeder Dance Hall
5/15 – Arkansas City, KS – The Burford Theatre
5/24 – Broken Bow, OK – Hochatown Saloon
More From Radio Texas Live