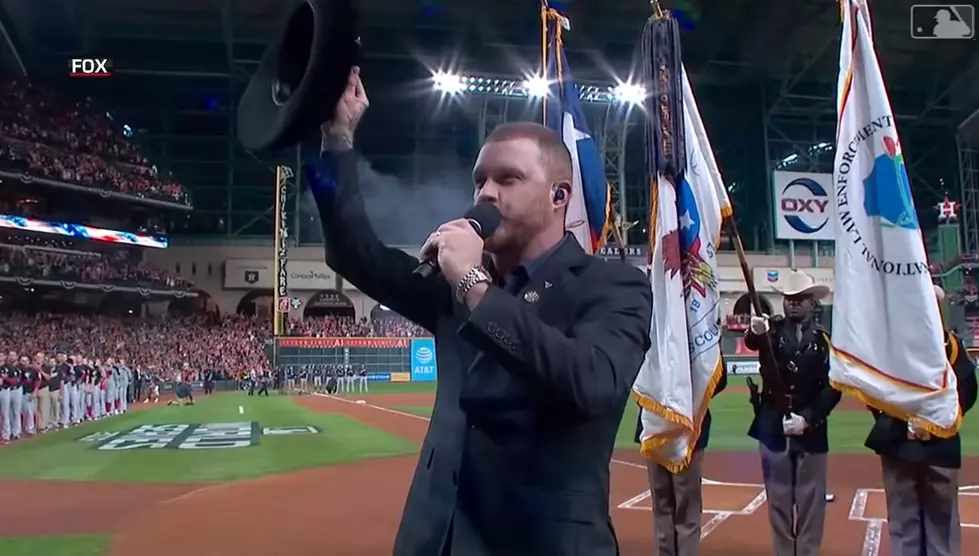 WATCH: Cody Johnson Sings The National Anthem Before Game 7 of The World Series
YouTube via FOXSPORTS CLIPS
**ORIGINALLY POSTED OCTOBER 2019** While The Houston Astros fell to the Washington Nationals last night in Game 7 of The World Series, it was a well fought series. And, hey, we can take solace in two things: the 'Stros will be back, and in the fact that Cody Johnson's rendition of our National Anthem was patriotic country perfection.
The Texas native wasn't phased a bit as he belted out The Star Spangled Banner in his signature twang. The heir apparent to the King of Country gave the tens of thousands in attendance, and the millions more watching at home a stellar performance that was broadcast for a national television audience on FOX.
Ultimately their earned home field advantage didn't pan out for the 'Stros, for the first time in World Series history no home team won a game. More like home field disadvantage, amirite?
The 18 Most Head Scratching, Unfiltered Koe Wetzel Tweets of '21... So Far
What's Koe Wetzel's secret? From tweets to lyrics it's honesty. Uncontrived, unadulterated, this-is-who-I-am, take it or leave it, feral honesty.
The First Facebook Profile Picture of 37 Texas & Red Dirt Acts
Have you ever wondered what your favorite bands and artists looked like when Facebook began it's world take-over around '08-'09? So did we.
How about a fun trip through time? Here are the first (or at least oldest) profile pictures from Turnpike Troubadours, Koe Wetzel, Whiskey Myers, Randy Rogers Band, Cody Johnson, Aaron Watson, Wade Bowen, and a few more of your favorite artists and bands
More From Radio Texas Live